Greek inCASA national exploitation event
Posted by on 07 May 2013 19:38
---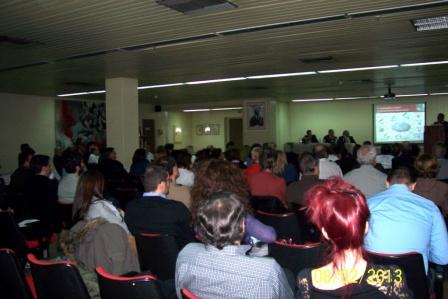 The Greek national exploitation event, entitled "e-Health Services: The inCASA project" was co-organized by the National Technical University of Athens (NTUA) and the Konstantopouleio General Hospital of Nea Ionia (KGHNI) at the KGHNI premises on the 8th of February, 2013 under the auspices of the Greek Ministry of Health and the 1st Regional Health Authority of Attiki.

Participators included Municipal (local) authorities, Health Care Authorities, SMEs providing services in the Health sector, Professors, Doctors, ICT researchers, Social workers, Psychologists and the project coordinator Massimo Caprino.

A total number of 163 persons were registered to the event which finally had a great impact on the audience, on the hospital, on the local society and on the involved authorities.
---
Extended News
---
The Greek national exploitation event, entitled "e-Health Services: The inCASA project" was co-organized by NTUA and KGHNI at the KGHNI premises on the 8th of February, 2013 under the auspices of the Greek Ministry of Health and the 1st Regional Health Authority of Attiki.
Participators included Municipal (local) authorities, Health Care Authorities, SMEs providing services in the Health sector, Professors, Doctors, ICT researchers, Social workers, Psychologists.
Moreover, a significant number of local elderly people attended the event. A total number of 163 persons were registered to the event which finally had a great impact on the audience, on the hospital, on the local society and on the involved authorities.

KGHNI invited local/national media to cover the event, something that led to various inCASA related press releases, mainly in healthcare related Greek web sites, even if general purpose media mentioned also the Greek event that was hosted in KGHNI and co-organized by the hospital and NTUA. Some indicative links are stated below (in Greek):

Link 1 - xtypos.eu
Link 2 - frontpages.gr